연구분야
Multi-layer Encapsulation
+ Strong Water resistant.
+ Protection of Active materials by stepwise capsulation.
+ Surface of the capsule is either hydrophilic or hydrophobic.
+ Slow release control is enable

Polymeric Micelle Technology
+ Stabilization for lipophilic ingredients.
+ Polymeric Micelle Stabilization by Self-assembly
+ Hydrophobic and hydrophilic group in polymer can make self-assembled structure.
+ Hydrophobic active ingredients are strongly stabilized

Oligomer / Molecular Complex
+ Solubilization technology for clear solution.
+ Active ingredients are solubilized by 'Oligomer complex' technology.
+ Physical property of complex to Hydrophilic.
+ Water insoluble ingredients become soluble clearly.
+ Surfactant free solubilizing system.

+ Polymer Complex between poly-ion and Hydrophobic ingredient
+ Self-assembled structure like surfactant (Hydrophobicity is controllable)
+ Wide Application for Stabilization or solubilization
+ Texture modifier of inorganic materials (TiO2, ZnO)
+ High compatibility with water and Carbomer
+ Super moisturizing Efficacy ( Hyaluronic acid-Ceramide complex)

+ Innovative Technology for color masking result in Hidden colors.
+ Size control : 50um ~300mm
+ Increasing Capsule stability in formulation, Soft texture.
+ Color-expression after capsule breakage
+ Wide application : Make-up, skin care, sunscreens, etc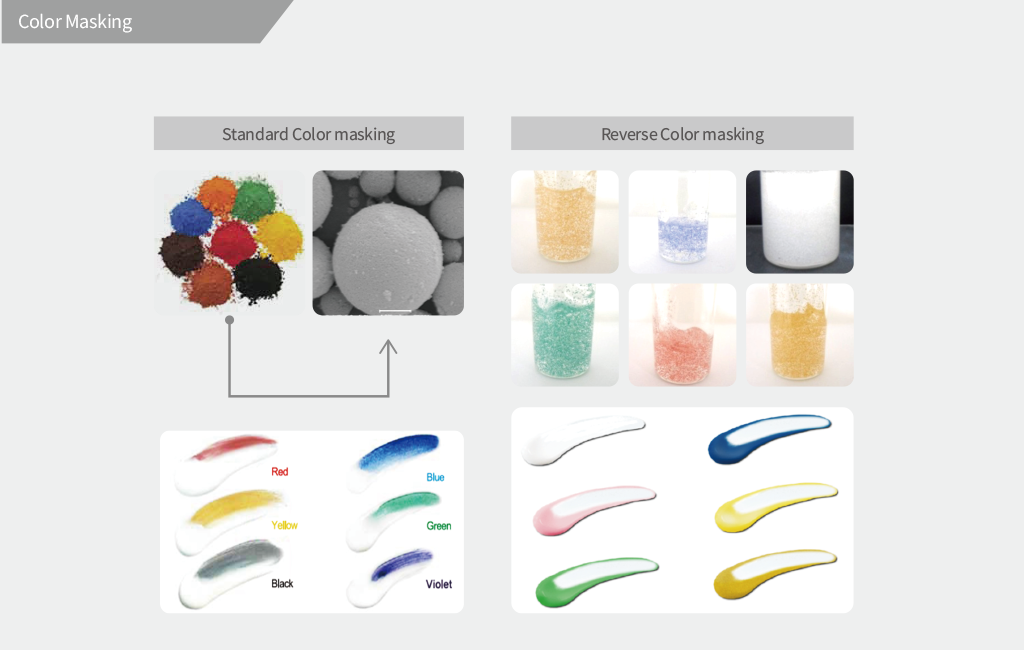 + Perfect Color Masking / Pellets / Beads / Scrub
+ Specialized coating technology for Core-shell type.
+ Easy to control of hardness, texture, Size ( ~mm)
+ Environmental friendly and waste free
+ Wide application : Cosmetics, Food, Intestine-release capsule, Pharmaceutical.
+ Product type : Organic-Inorganic, core shell, Pellets, Beads, Tablets
Monster Bead / Oil Capsule
+ Visual Sensory Impact : Macro Visual Beads as Finished products.
+ Size Control of Beads : 1~20mm, Embedded type
+ Encapsulation of formulations (Serum, skin Toner, Emulsion)
+ Not only for visual effect but also applicable for finished product itself
+ Size Control of Oil capsule : 1~20mm , Core shell type
+ Encapsulation of Oils : Vegetable oil, Dimethicone, Mineral oil, MCT oil, etc
+ Controllable of capsule Texture, Long-term stability.
+ Customized products : Various Options (Colors, Selection of Organic / Inorganic Active)
01 Multi-functional materials
Developement of a new concept in multi-functional materials
+ Biogenics' multi function materials can be applied in cosmetic products which produce whitening, anti-wrinkle effect, UV blocking funtionalities.
+ If self assembled substance is used, safe nano emulsion can be produced to give high skin penetration rate and the emulsion will be separated in certain con-dition to bioactive material.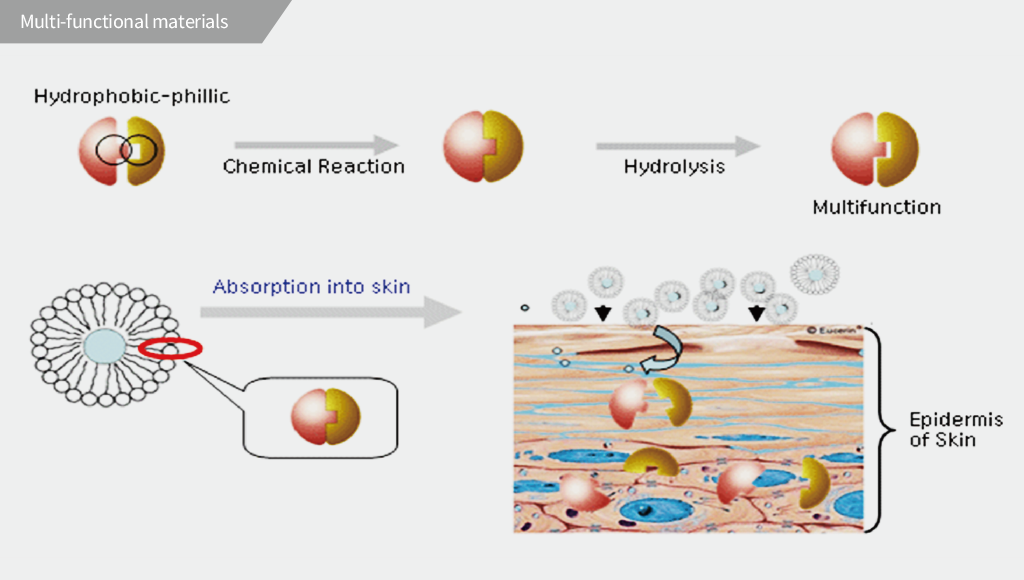 + 100% Pure Natural Korean Yuja Essential Oil(From Peel part)
+ Method: Steam-Ditstillation
+ Maintain homogeneous content of major components (by GC analysis)
+ Uniform basic property and stability management
+ Thorough Pesticied Management (by GC and HPLC analysis)
+ Application Fields: Fragrance, Flavor, Essential Oil, Aromterapy, Houshold Goods, Air Freshener
+ YUJA Essential Oil is ussd most often in perfumery applications as it has longer staying power in a biend.
+ Major components :
Gas Chromatography analysis data (By BIOGENICS)

Compare of YUJA and Orange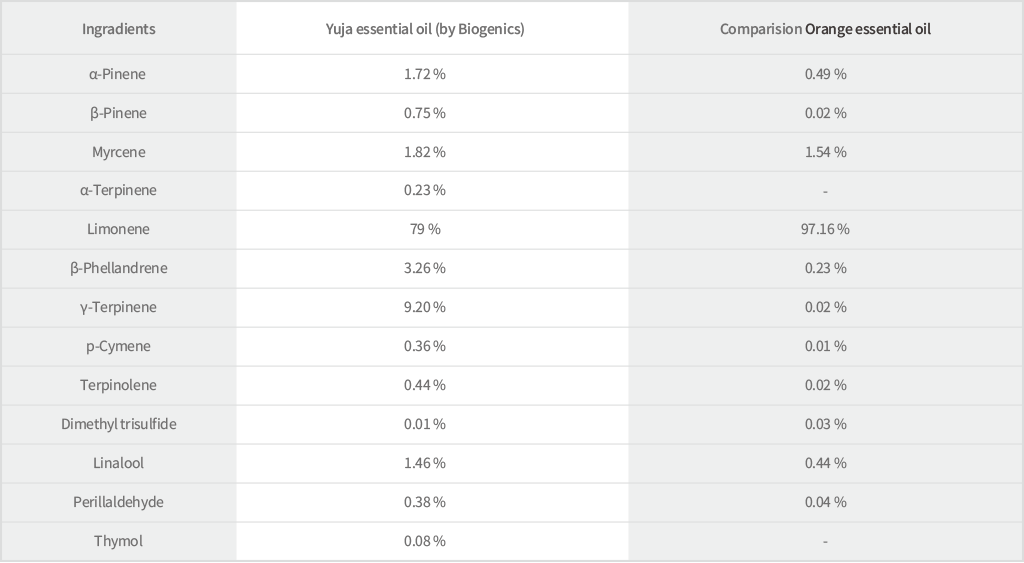 + Main Ingraedients and Efficacy :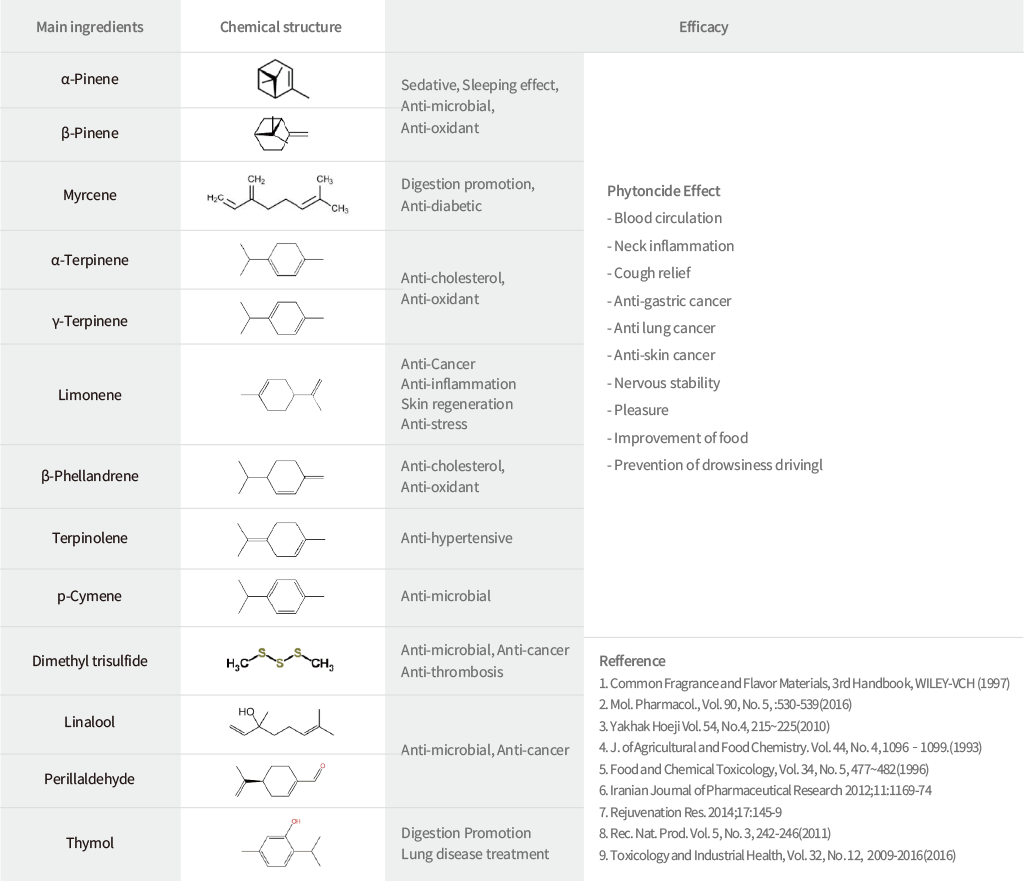 + 100% Pure Natural Korean Yuja Seed Oil(From Seed part)
+ Method: Cold-Press
+ Maintain homogeneous content of major components (by GC analysis)
+ Uniform basic property and stability management
+ Application Fields: In-cosmetic and Food, Essential Oil, Aromterapy, Carrier Oil, Base Oil
+ Major components:
Ingredients of natural Yuja seed oil contain 2.5 times more linolenic acid tha Oat Oil
Gas Chromatography analysis data (By BIOGENICS)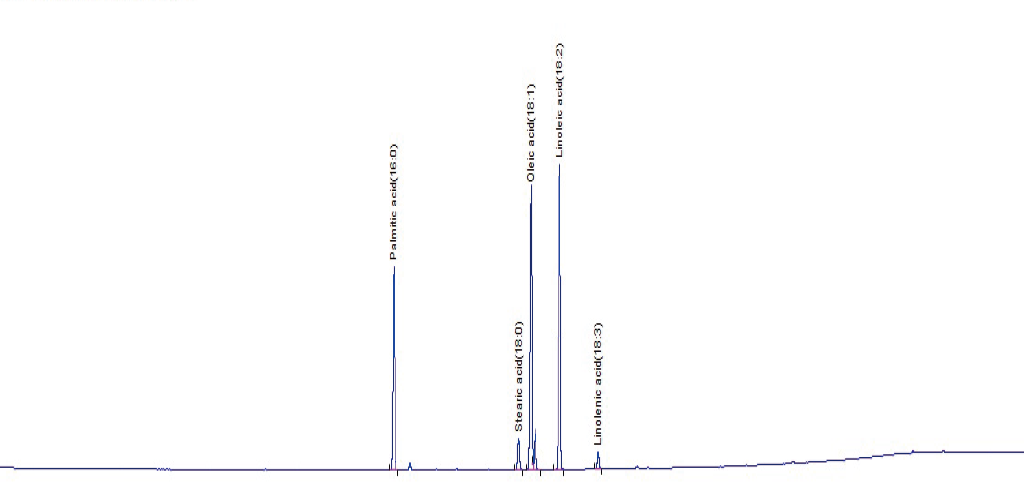 Compare of YUJA seedoil and Oat Orange

+ Main Ingraedients and Efficacy :